STRONG JUST GOT STRONGER:
FIELDSENSE PERSONAL RF MONITOR MOST ROBUST PRODUCT ON THE MARKET
Robustness and resistance to adverse conditions have been key features of the fieldSENSE personal RF monitor since its inception. Dust, water, heat and cold are no match to its durability. But that is not all: as of now, the fieldSENSE personal RF monitor is the most robust product in its field on the market having just been rated IK 08 as per the EN 62262 standard. This means that the fieldSENSE now complies with even higher impact resistance standards.
IK ratings (or impact protection ratings) are the international standard for an enclosure around electrical equipment. IK ratings are outlined in the European standard EN62262 which is the equivalent of the international standard IEC 62262 (2002). This standard specifies how an enclosure should be tested by undergoing a variety of atmospheric conditions and impacts.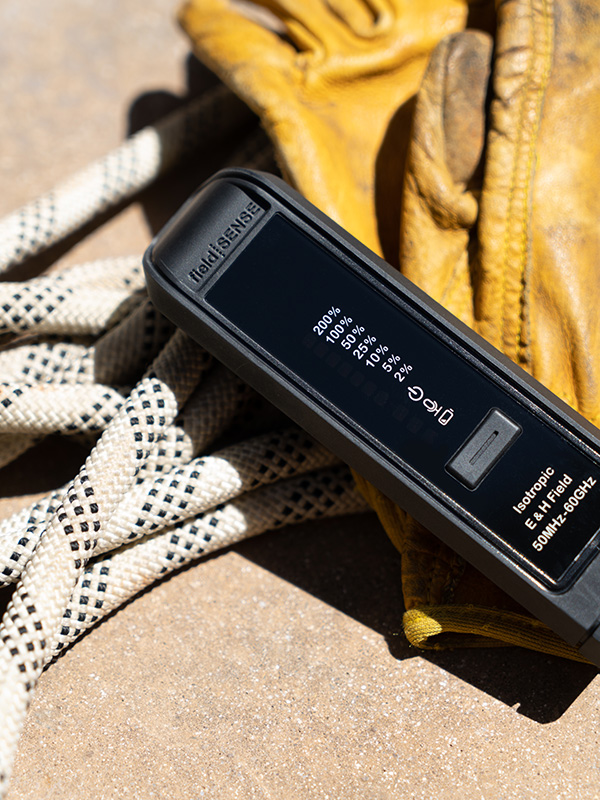 What is the difference between ingress protection (IP) and impact protection (IK)?
The IP rating of a device comprises of two digits. The fieldSENSE personal RF monitor, for example, has an IP rating of 64. The first digit (6) indicates how a device is protected against solid objects which includes dust while the second digit is an indicator of how resistant a device is to liquids. An IK rating, on the other hand, represents impact resistance. In other words, IK ratings can range from IK0 to IK10 with the higher the rating the more robust the product and the better it will be able to maintain safety at higher energy impacts. As mentioned, the fieldSENSE personal RF monitor has an IK rating of 8, which means it is protected against 5 joules of impact (the equivalent to the impact of a 1.7kg mass dropped from 300mm above the impacted surface). The IK rating is essentially a robustness check.
Why is IK rating important?
IK rating is especially important for products that need to operate and endure harsh environments. In the context of, for example, tower climbing or bucket truck working devices might be subject to accidental knocks and bumps from the climb. If a device becomes damaged, it can result in the device not working or even failing completely. Analysing the risk of an impact is therefore important when deciding whether you need a device with a high or low IK rating. Ultimately, the IK rating can be a deciding factor in product/device selection, especially where the product/device will be used in a harsh environment with regular impacts.
Personal RF safety is not only concerned with measuring the right thing but also ensuring that you have a device that is robust and resilient enough to withstand these accidental impacts and still measure accurately. When we say the RF personal monitor works as hard as you, we mean it!
The fieldSENSE personal RF monitor is already a durable product with a long lifespan and with its new IK rating, our devices undoubtedly have a strong advantage.