5G IS UNLOCKING THESE NEW TRENDS IN THE NEXT 2 TO 5 YEARS
Globally, digital connections are becoming broader and faster and are providing a platform for every industry wanting to boost productivity and innovation. The promise of 5G has captured the attention of the media as well as business leaders and policymakers. Since the first true high band 5G networks are live already, we look at how 5G connectivity could be deployed, what impact it will have on various verticals and what trends it can enable in the next 2 to 5 years: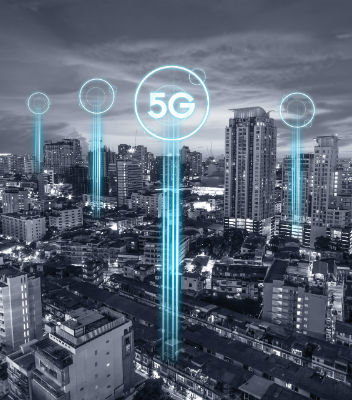 ReportsnReports estimates that the global 5G core market size will grow from US$630 million in 2020 to US$9,497 million by 2025. The leap from 4G to 5G will not only increase over-the-air data speeds but will also usher in a new era of consistency and low latency that will change the way factories and offices operate, and further deepen the digital transformations that have been established over the past year.
1. The economic impact of 5G technologies
5G is set to have a massive impact on the economy especially as the world starts looking to digital infrastructure to boost its recovery from the economic impact of COVID-19. Using 5G technologies and networks will unlock myriad revenue opportunities in industries such as manufacturing, healthcare, entertainment, and education to name just a few. PWC estimates that 5G technology and the 5G global value chain will generate $13.2 trillion in global economic value and 22 million jobs.
2. 5G will deliver continuous connection, greater capacity, and faster speed and response times
5G will not only offer improved connection but also continuous connection. 5G networks are designed to work alongside 4G networks using a range of macrocells, small cells and dedicated in-building systems. 5G technology will also offer increased spectrum, greater capacity, more users and faster speed Finally, 5G will use massive multiple input, multiple output (MIMO) antennas that contain a vast amount of antenna elements or connections in order to send and receive more data simultaneously. The benefit to users is the fact that more people can connect to the network instantaneously while still maintaining high throughput.
3. New and exciting 5G use cases to explore
5G, the fifth generation of cellular wireless technology, will enable ultra-reliability and ultra-security. Bytestart points out that 5G will allow communication between a million devices per square kilometre compared to the 100,000 for 4G. Some of the exciting new use cases include massive machine to machine communications; ultra-reliable low latency communications and enhanced mobile broadband.
4. 5G will open up new revenue opportunities
Previous wireless generations have delivered increased bandwidth and capacity. 5G promises to go further and so open up new revenue streams in both the consumer and enterprise markets. These capabilities will be essential to providing emerging technologies such as autonomous vehicles, robotic surgery, and applications for augmented reality. 
5G is the innovation platform of at least the next decade with technology boundaries being pushed to address new market needs, create new revenue streams and support future services. 5G will enable rapid connectivity to billions of devices, the Internet of Things (IoT) and will result in a truly connected world. With its speed, low latency, and connectivity 5G will facilitate a new generation of applications, services and business prospects that have not been seen before.
If you enjoyed this article, please subscribe to our newsletter or download our free Introduction to RF Safety below.