5 FACTORS TO
CONSIDER WHEN
CHOOSING A
PERSONAL RF MONITOR
The use of personal radio frequency (RF) monitors is legislated for wireless tower climbers, bucket truck workers and technicians and the like. Safety managers require all personnel working on wireless facilities to carry RF monitors as part of their personal protective equipment. Stringent global health and safety policies for RF exposure levels further contributed to companies looking to monitor these levels to protect their employees. With this in mind, here are five key factors you should consider when choosing a personal RF monitor: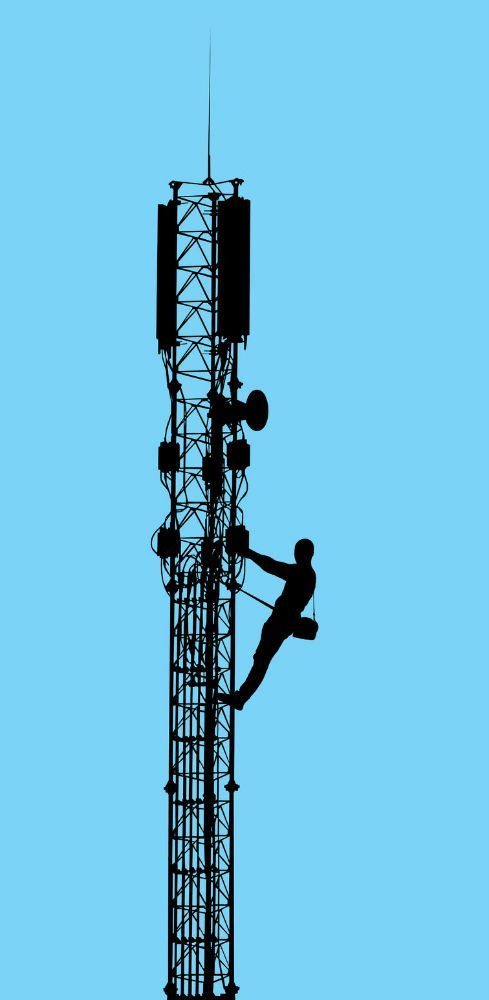 The personal RF safety monitor, also known as an electromagnetic field densitometer, forms part of the personal protective equipment worn on the body of the person (such as a tower climber) working in areas exposed to radio spectrum radiation. Personal RF monitors are designed to warn of excessive RF exposure when working on, for example, industrial equipment, broadcasting towers, radar installations and other sources of electromagnetic radiation.
1. Bandwidth to accurately measure all sources of RF radiation
Personal RF monitors are a crucial component to any fully functioning RF safety programme. Personal RF monitors must accurately measure all sources of RF radiation and therefore need a wide frequency range to ensure coverage at all potential frequencies including 5G without requiring any tuning or band switching. It is also imperative that RF workers receive training on how to use these monitors properly.
2. Recalibration
Functional calibration is recommended every two years. This period starts on the date of the calibration certificate included in the original purchase. A specialised laboratory should be used to verify that the personal RF monitor is performing within the manufacturer's specifications. Since the occupational maximum permissible exposure, which is monitored, represents high levels of RF power, it must be replicated in the lab to accurately test and recertify the monitor. When choosing your personal RF monitor, make sure your supplier has a recalibration process in place.
3. Compliance with international standards
Those working near transmitting antennas can exceed the permissible RF exposure levels. For this reason, RF safety monitors must comply with international occupational health and safety laws, regulations and Directives for each country. FieldSENSE personal RF monitors comply with all
shaped over frequency standards and limits
for exposure to electromagnetic fields.
4. Durability and robustness
Given the harsh environments in which RF monitors often operate, it is not only essential for it to be accurate but also for it to be durable, intended for everyday use, and is small enough to be unobtrusive to the user as they complete their tasks. FieldSENSE RF monitors are the most robust RF monitors on the market. Moreover, FieldSENSE RF monitors have also been rated IK 08 as per the EN 62262 standard. You can read more about the tests conducted to achieve this rating in our
recent article
.
5. Ease of use
An RF monitor should be easy to configure and use with the necessary functionality and readable user interface to ensure the user is inside a safe working environment. The ability to easily attach and detach to the harness of the RF climber with durable clip-on/off mechanism and lanyard coil is another essential, keeping it out of the way of the work being done and the climbing. Radiofrequency radiation is a real and present hazard to fieldworkers. It is the employer's responsibility to ensure that workers are not exposed to RF levels that exceed the allowable limits. A combination of training and following safe RF practices and carrying a personal RF monitor can keep fieldworks safe and alert them to high-frequency radiation fields that could pose a health hazard.